The 2013 movie 47 Ronin is a Hollywood fantasy epic distributed by Universal. Released in December 2013, this 3D period fantasy action-adventure film received generally negative reviews, although many critics praised the action sequences.
The movie strays fairly far away not just from the actual historical 18th-century event but also from the most famous Japanese plays depicting it. Among other things, the movie incorporates supernatural elements into the story by the addition of a shape-shifting witch as Lord Kira's side-kick. Also, the Hollywood star Keanu Reeves has been shoe-horned into the plot as an Anglo-Japanese man who was adopted as a foundling by Lord Asano but now lives as an outcast in Asano's territory, and is in love with Asano's daughter Mika (i.e. his sister through adoption).
The movie had its world premiere in Japan on 6 December 2013, followed by a United States premiere on Christmas Day that same year.
The 47 Ronin movie grossed less than 152 million USD against its total budget of 175 million USD, making it one of Hollywood's biggest box office bombs of the year and leaving Universal deeply in the red for 2013.
In 2014, 47 Ronin was released on DVD, Blu-ray and Blu-ray 3D by Universal Pictures Home Entertainment.
Basic info
Director: Carl Rinsch
Distribution company: Universal Pictures
Starring: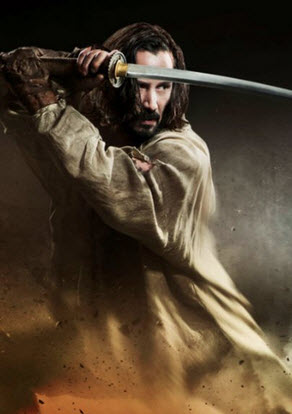 Keanu Reeves
Hiroyuki Sanada
Rinko Kikuchi
Min Tanaka
Producer:
Pamela Abdy
Eric McLeod
Production companies:
H2F Entertainment
Mid Atlantic Films
Moving Picture Company
Stuber Productions
Screenplay by:
Chris Morgan
Hossein Amini
Story by:
Chris Morgan
Walter Hamada
Cinematography by: John Mathieson
Edited by: Stuart Baird
Music by: Ilan Eshkeri
Running time: 2 hours and 7 minutes
Country: USA
Language:
English
Japanese
Release date:
December 6, 2013 (Japan)
December 25, 2013 (United States)
Budget: $175 million
Box office: $151.8 million
Cast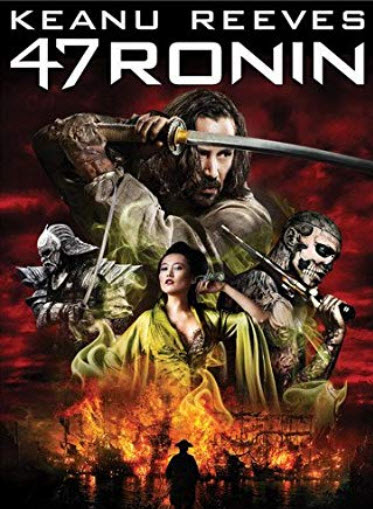 Keanu Reeves as Kai, an Anglo-Japanese foundling adopted by Lord Asano
Hiroyuki Sanada as Oishi, leader of the 47 samurai who become rōnin
Tadanobu Asano as Lord Kira
Rinko Kikuchi as the witch who aids Lord Kira
Ko Shibasaki as Mika, Lord Asano's daughter, and Kai's love interest
Min Tanaka as Lord Asano
Cary-Hiroyuki Tagawa as Shōgun Tsunayoshi
Jin Akanishi as Chikara, the eldest son of Oishi
Masayoshi Haneda as Yasuno
Hiroshi Sogabe as Hazama
Takato Yonemoto as Basho
Hiroshi Yamada as Hara
Yorick van Wageningen as Kapitan
Masayuki Deai as Isogai
Shu Nakajima as Horibe
Togo Igawa as Tengu Lord
Natsuki Kunimoto as Riku
Gedde Watanabe as the troupe leader (a kabuki actor)
Rick Genest as Foreman
Daniel Barber as teenage Kai
Production & Release
47 Ronin was the directorial debut of Carl Rinsch, who was provided with a huge production budget despite having no previous feature film experience.
The film was first announced in late 2008, when Keanu Reeves had been attached to star. Two years later, the studio revealed that the movie would be produced and released in 3D. Filming started in March 2011, in Budapest, Hungary.
Scenes were filmed first in the Japanese language since a majority of the cast were Japanese, and then filmed again in the English language.
The re-shoots in London were delayed by the 2012 Summer Olympics and the filming of Keanu Reeves directorial debut Man of Tai Chi, but could finally take place in August 2012.
In late 2012, when the film had reached the editing stage, Universal removed Rinsch from the project and the Universal executive Donna Langley took over the editing process. In order to increase Keanu Reeves presence in the film, a love scene was added, as well as a few extra close-ups and lines of dialogue.
The intended release date for 47 Ronin was 21 November 2012. It was pushed to February 2013 since more work was needed on the 3D visual effects and creative differences had emerged between Rinsch and Universal. The premiere was then moved again, this time to December 2013, to give time for the re-shoots and post-production.
The film had its world premiere in Japan on 6 December 2013.